Cheshamashi | Nishat Bagh | Shalimar Bagh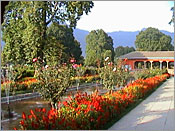 Located on the foothills of Zabarwan Mountain. This garden provides a picturesque scene of lakes of Srinagar. Shah Jehan laid out the original garden in 1632 AD. A tasteful laid garden in terraces with a spring of cool refreshing digestive water.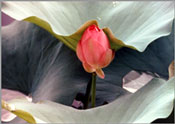 Asaf Khan brother of Noor Jehan designed Nishat Bagh or the "Garden of Bliss" in 1633 AD. It is situated on the rising ground sloping up from the Dal Lake, backed by Zabarwan mountain immediately behind provides view far over the Lakes and valley to the distant snowy mountains.
In spring when the Kashmir lilac and the fruit trees are in blossom, when the chinar are in young leaf and the turf in its freshest green gives a sense of security of beauty.
The pavilion at the entrance gives a striking view of the garden right up in the line of waterfalls, fountains and on to the mountains, which hang over the garden.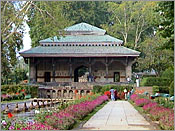 The garden is about 600 yards (to be converted in meters) long and divide into seven terraces, each rising well above the other. Down the centre runs a water-channel broken into a succession of waterfalls and fountains shaded by an avenue of chinar's. On the higher terraces are the foundations of pavilions and massive stone throne-like seats, which indicate the fuller beauties of the Moughal times.
From the top terrace there are beautiful and extensive views through the avenue of Chinar trees, over the fountains and waterfalls, on to the glassy lake and the distant snowy ranges.
Located on the northeast corner of Dal Lake with the soft green turf and avenues of Chinar trees and willows is the Shalimar Bagh, the Abode of love or Royal Garden. Built by Emperor Jahangir for his wife Nur Jehan. The garden is 539 by 182 metres and has four terraces.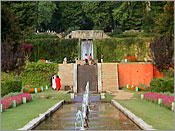 It would be hard to find a more beautiful garden than the Shalimar on an autumn evening, when the great avenue of chinar's is tinged with gold and russet, when the lofty mountains which rise behind it take on every shade of blue and purple and the long lines of fountains running through the avenue sparkle in the sunshine .
The garden is remarkable too for a pavilion, with exquisitely carved pillars of black marble. It is set in a tank in which play numbers of fountains, and round the borders of the tank are massive chinar trees.