Adventure Itenaries
Gypsy Trails
10 Nights / 11 Days
Kashmir Trek
Nubra Valley Trek
10 Nights / 11 Days
Ladakh Trek
Zanaskar Rafting
13Nights / 14 Days
Chaddar Ice Trek
12 Nights / 13 Days


Kashmir and Ladakh — Adventurers' Paradise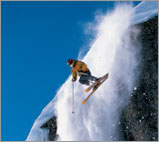 The high altitude of Kashmir's Himalayan range makes for an adventurer's playground. Trekking, Water trekking, Ice trekking, river rafting, Jeep safari tours are some of the main sport activities.
Trecking & Rafting : The renowned treks of Vishensar, Gangabal, Kolahai in Kashmir offer are one of the most exciting treks of Himalayas. Indus in Leh region, Shayok in Nubra and Zanskar River in Zanskar have a variety of river rafting skill levels. An unlimited scope for river rafting.

Mountaneering : Zanskar range, Ladakh ranges, and the recently opened Karakoram Range have some of the finest challenges for mountaineers.

Water Trek : The best way to explore the old life style revolving around Kashmir and a unique experience which makes you to cruise through the daily life style of Kashmiri people. Sitting in a huge Shikara and cruising along the river Jhelum, passing through the heart of Srinagar city, behind the 7 historic bridges and reaching country sides and some of the very best known lakes in Kashmir and Asia. Sleeping in a shikara or camping along the banks, water trek gives you a new concept of trekking.

Skiing & Heli Skiing : Kashmir first Ski resort – the British established "Gulmarg" in 1927. With its unrivalled slopes Gulmarg can be any adventure sportsperson's delight. . It holds a position as one of the highest lift served ski resorts in the world. The area is one of world's best Heli-skiing regions, according to with thousands of possible 2000-plus meter descents. According to Living Abroad Magazine & Sylvain Saudan (skiers of the impossible), Gulmarg is one of the best Heli Skiing spots in Asia.

Ice Trekking
An Adventure that dares you – Journey of a lifetime
The Chaddar Ice trek expedition is a test of physical ability and mental endurance – you need to be physically very fit, mentally very strong and have the initiative to dare as you take one of the most arduous journeys in the Himalayas.
The Chaddar surface is a grand illusion. Parts of the gorge where the river is frozen edge-to-edge speak a placid, calm, serene lie. All seems still and blissful – a landscape of breathtaking beauty.
Moving over the sheet of Ice in very odd temperature of 20 to 25 minus trekkers have to Camp in Caves used by Ancient traders along the frozen Zanskar River. The trek takes one down the desolate, remote and sheer Zanskar gorge, with its walls rising a few thousand feet out of the riverbed. The near-vertical rise of the gorge-face at either edge of the river forces one to walk on the river (now ice) at all times. Wild animals like ibex and even Snow Leopard can be seen during the trek.