Hemis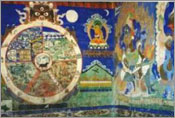 Situated in a lateral ravine off the Indus valley, 48 kms east of Leh, is the largest and the most important of all the monastic establishments in Ladakh. Founded during 1630 AD by the renowned Tibetan teacher, 'Stagsang Ras-pa', with the active support and patronage of famous Ladakhi king, Singhe Namgyal. It has a resident community of about 500 Lamas. It has branches and affiliate monasteries all over Ladakh. It houses a two-story 'Thangka' of Padmasambhava, which is displayed after every 12 year. The Ladakhi royal and other noble families continue to be the most ardent patrons of Hemis monastery, which in turn fulfils their religious and liturgical exigencies on important occasions of life. Hemis monastery commands respect and power throughout the Ladakh region.
Thiksey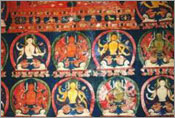 Thiksey is located only 19 kms from Leh and is perhaps the most visited monastery after Hemis. Founded about 550 years of ago on the site of an earlier Kadam-pa establishment, today it is a major Geluks-pa monastery with about 100 lamas on its rolls. It houses interesting antique treasure of Paintings, masks, statues and Thangkas. It is well maintained and is beautifully located along the rising slopes of a hill, overlooking many picturesque villages.
Spituk
The Spituk monastery clings to a hillock overlooking the village, about 7 kms west of Leh. Originally founded in during the 11th century it was converted to the Geluks-pa order during the early 15th century. Today with 100 Lamas and several branch monasteries, Spituk monastery is one of the major establishments of Ladakh. It houses an enormous statue of "Kali" whose face is unveiled once a year during "Spituk Festival".
Lamayuru
Lamayuru monastery is one of the major Landmarks of Ladakh and is considered to be among the oldest foundations associated with several well-known Buddhist saints. It is believed to have been a "Bon-po" monastic site that was blessed by the miraculous visit of Naro-pa (11th century saint scholar). The Ladakhi King, Jamyang Namgyal in the mid-16th century, offered it to "Dri-gung-pa" monastic order. With 200 monks in residence, Lamayuru monastery is now the principal 'Dri-gung-pa' foundation in Ladakh. It is located 127 kms from Ladakh and a must-see site for tourists.
Alchi
Alchi is the only monastery built on flat ground and lies about 69 kms from Leh. Built in the 11th century by the great translator known as Ringchen Zangpo. This is very famous for its painting and architecture that has an Indian and Kashmiri influence in them. Alchi is also known as the choskor or religious enclave.
Karsha
Karsha monastery is the largest foundation Geluks-pa foundation with more than 100 resident Lamas. The festival of Karsha Gu-stor is held and celebrated here. It is spectacularly located along the steep mountainsides rising above the village of Karsha, 12 kms from Padum, which is the region's ancient capital and present day headquarter. It lies in the valley of Zanaskar.
Stong-de
Close by to Karsha monastery is the other major Geluks-pa monastery of the area at 'Stong-de', believed to be founded during the middle of the 11th century on the site used by Tibetan Yogi Marpa for meditation. It was subsequently acquired by the Geluks-pa order in the 15th century. There are about 60 monks on its rolls.
Likir
Likir monastery is situated to west of Leh at a distance of 52 kms. Likir monastery is a major Geluks-pa foundation and direct charge of Nari Rimpoche, whose present incarnation is the Dalai Lama's younger brother. It was initially established in 1065 AD as a Kadam-pa foundation and in early 15th century it was expanded and acquired by the Geluks-pa order. Likir monastery has about 100 Lamas on its rolls.
Deskit
Deskit monastery is a major branch of Thiksey monastery. Situated in Nubra valley it was established during early 15th century. During the festivals, Lamas perform sacred dances while the devotee's present folk dances of the areas as interludes to the somber and serious numbers.
Nyingma-pa
Nyimgma-pa monastery is built around a cave foundation and is situated 46 kms east of Leh, in the village of Sakti. Founded around the late 16th century as a meditation monastery, it now houses 40 monks, most of whom are experts in astrology of both Indian and Chinese origin. The Lamas in the guise of various divinities and legendary characters perform mystic dances during Tse-chu festival.
Matho
Matho monastery is situated on a hill in a lateral ravine of the 'Stok-Khangri' range across the Indus, 26 kms east of Leh. About 500 years old and now has a resident of about 60 monks. Matho monastery is the only establishment in Ladakh, which follows the 'Saskya-pa' order, one of the last Red Hat sects to be founded in Tibet. Its annual festival is called " Matho Nagrang".
Phyang
Phyang monastery is located on a hill overlooking the village of phyang, situated at a distance of 17 kms west of Leh. Originally established as a Kadam-pa monastery during the 11th century, it was acquired by the Dri-gung-pa sect, about 470 years ago. Today it houses about 70 Lamas and is a very well maintained monastery of Ladakh. A huge antique 'Thangka' of "Skyabje Jigten Gombo" is one of the valuables of Phyang monastery and is exhibited for the public every 3rd year.
Stok
King Tsespal Tondup Namgyal built Stok monastery in 1835. Museum and monastery, Stok is the present village where the royal family lives now, 17 kms from Leh. In the palace there is a museum, which has, artifacts associated with the Ladakhi history and culture. In the museum are shrines, the crown, ceremonial dress and jewelry of the king of Ladakh.